At Joanie Clothing, we are committed to sustainability and want to let you know what steps we are taking to become a more eco-conscious brand. With a focus on the use of sustainable fabrics, making improvements within our supply chain and working to reduce waste, we want to make affordable sustainable clothing accessible to our customers. We don't have all of the answers yet, but we hope that the information on this page will be useful in explaining the progress of our sustainability journey.
Sustainability: Our Philosophy
All of our styles are designed by our in-house team! We're passionate about creating clothing that is stylish, modern and wearable with a twist of nostalgia that adds personality and individuality to your wardrobe.
Our philosophy is to create vintage-inspired designs that you love, in beautiful prints and fabrics, and with fun, quirky slogans; styles that will become firm favourites in your collection! Everything we create is designed to be loved and worn, season after season, with quality, style and comfort at the heart of our product development process.
We focus on slow fashion, aiming to give your style an element of timeless, vintage exclusivity and quality that will last. We are the antidote to the throwaway culture of fast fashion and we truly believe that buying less, but buying better, will lead to a more environmentally conscious future, for both our business and our fashion loving customers.
We work closely with our manufacturing partners to produce regular collections of new, unique styles in small quantities. You won't see our garments on the high street and we limit our production runs to minimise the chances of our products ending up in landfill.
Sustainability: Our Goals
When buying from us, you can be confident that we are doing everything we can to reduce our impact on the environment and protect those employed in our supply chain. By the end of 2021, we plan for 50% of our styles to be sustainable, with the intention of raising this to 70% by the end of 2022.
There are 3 key areas of focus for our policy and actions on sustainability:
1. Increasing our use of sustainable, recycled or organic fabrics
We're working to switch to sustainably sourced fabrics for as much of our range as possible.

Organic Cotton
We have already introduced organic cotton into our T-shirt ranges and have plans to increase our use of organic and recycled raw materials across our collection in the coming year. In doing this, we are making a firm commitment to reducing our environmental impact and working closely with our sources to ensure fair working practices.
Evidence suggests that organic cotton has half the global warming potential of conventional cotton! The growth of organic cotton uses 91% less fresh water and approximately two thirds less energy!
Cotton is a natural fibre that is farmed, spun into yarn, and then knitted or woven into soft, strong fabrics which are breathable, absorbent and washable! Cord, denim, jersey, sweatshirting, twill and velvet are some of our favourites!
Commercial cotton production brings economic benefits to the low-income regions where it is grown but it can also bring with it serious environmental and social problems. We want to make sure that as our business grows, we continue to contribute positively by improving our supply chain and the lives of the workforce within it.
Viscose
Viscose is a cellulosic fibre, derived primarily from wood pulp. We are working with our manufacturers and fabric suppliers to create a supply chain which is focused on using cellulosics derived from sustainable, natural sources.
Using viscose, where not sustainably sourced, accelerates deforestation, uses harmful chemicals in its production and consequently contributes even more to greenhouse gas emissions than cotton production. This is why it is important to us to focus on sourcing sustainably produced viscose.
EcoVero™
From January 2021, we are introducing LENZING™ ECOVERO™ into our range! LENZING™ ECOVERO™ is a viscose fibre that is derived from certified, renewable wood sources using an eco-responsible production process, which meets high environmental standards. The production process generates as much as 50% less emissions and water usage than regular viscose. LENZING™ ECOVERO™ has a smaller carbon footprint and is fully biodegradable too!
Recycled Polyester
We are committed to reducing the amount of synthetic fabric used in our ranges and are working hard to find sustainably produced and regenerated fabrics. Recycled polyester promotes circular fashion, giving new life to non-biodegradable materials. Our recycled polyester comes from 100% recycled plastic waste, which includes plastic bottles and other single-use plastics, preventing them from going to landfill or the ocean. Recycled polyester has all of the same benefits as virgin polyester (like being lightweight, crease-resistant and easy to wash), but the process to create it emits fewer greenhouse gases and uses less water and energy.
2. Encouraging and assisting our manufacturers to increase sustainable initiatives in the production process
We are working with our manufacturing partners to assess and develop their operations in ways that will help them improve their environmental impact and reduce waste. Initiatives to help them achieve this in their production facilities might include the following:
Use of low energy LED lighting & cooling systems

Recycling of all waste paper, card, polythene and fabric

Rainwater harvesting and recycling of water for factory use

Water saving features such as push button taps in bathrooms and kitchens

Installation of solar panels for energy, with excess energy being sold back to the national grid to generate additional income

Food waste from on-site canteens distributed to local farms for animal feed

Skylights to improve natural lighting in the factory environment
We recognise that some of these initiatives are very simple to initiate and others will require time and investment but it is a priority for us to reduce the carbon footprint across our network of producers.
Vegan Friendly
We have eliminated all animal by-products from our sourcing and supply chain. In doing so, our customers can rest assured that there is no animal exploitation in the production of our clothing. We never use leather, cashmere, mohair, Angora, wool, fur/animal hair, feathers/down, silk, bone, teeth, horn or shell; these components are banned from Joanie production, making us vegan friendly.
3. Using only sustainably sourced or recycled packaging & recycling all waste
The clear plastic bags that our clothes are packaged in are there to protect your order, they keep the clothes clean and in the best possible condition for you to receive them in. Where possible, we use recycled polyester bags and we're in the process of implementing this throughout our entire stock. Look out for the recycled logo - all of our new styles will arrive in these!

Our signature pink Joanie mailing bags are made from Green™ PE, a revolutionary material that is derived from sugarcane. Making it a much more sustainable option than regular plastics. Green™ PE is CO2 negative, renewable, recyclable and sustainable. You can read more about Green™ PE, here:

https://duogreen.uk/green-inventions/

Our warehouse packing team try wherever possible, to select the smallest appropriate size of mailing bag for your parcel in order to keep packaging materials to a minimum and to ensure maximum efficiency in transport.

Our order notes, bookmark parcel inserts, cardboard and paper for despatch packaging are all made from recycled paper.

Any faulty returned garments that require repair are donated to

New Life

. New Life is a charity for disabled and terminally ill children. The charity raises funds by repairing and reprocessing donated stock to raise funds for equipment, medical research and campaigns.

Over the coming months, we will be working with our supply chain to eliminate virgin plastic completely and introduce recycled swing tickets and garment labels.
At our Manchester Head Office
We are keen recyclers at Joanie HQ! All office plastic, paper and glass is recycled.

Any fabric swatches that are surplus to requirement are donated to local colleges and universities for Textile and Fashion students to use.

We donate old samples and/or unsaleable garments to

The British Heart Foundation

. In 2019, our stock donations raised £635.19 towards their funds (2020 figures coming soon).
Ecologi: Climate Positive Workforce
We are now a 'Climate Positive Workforce'. Hand in hand with our commitment to sustainability is our intention to reduce our carbon footprint as a business. We are signed up with Ecologi to offset all of our business and personal travel, by growing our own company forest. As a result we are now considered a "Climate Positive Workforce", having planted 587 trees in 2020. You can see our current count of 'trees in our forest' below!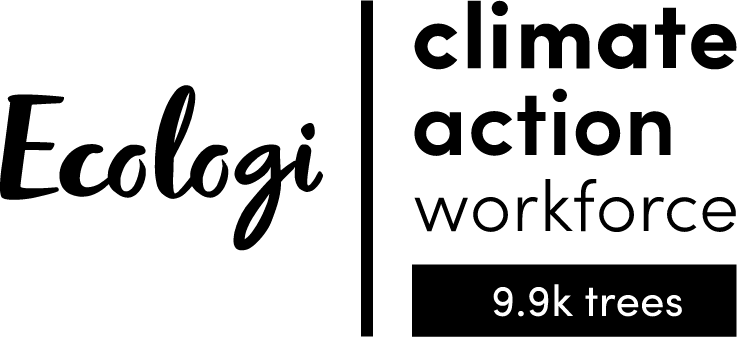 reGAIN: Recycling Rewarded
We've proud to announce reGAIN as our recycling partner! We hope that you love and re-wear your Joanie pieces as much as possible but if the time has come to part ways, you can use reGAIN's service to donate your unwanted clothes and even get an exclusive discount code to use on your next Joanie order!
By donating your old clothes, you can ensure they don't end up in landfill and raise money for charity at the same time! On top of that, you'll get a discount code to use on Joanie styles you can wear season after season. It's win win win!
All you need to do is package up your unwanted clothes and visit the reGAIN app to create a shipping label and select a drop off location. You'll then receive your exclusive discount code!
The reGAIN app is available on the Apple App Store for iPhone and the Google Play App Store for Android. You can find out more on the reGAIN website.
UNICEF Sustainable Development Goals
We support UNICEF's Sustainable Development Goals. The Sustainable Development Goals (SDGs) are a landmark global call for action to achieve peace and prosperity for people and the planet.
You can read more about the SDGs here: https://www.unicef.org/sdgs
Garment Care
Top Tips for Better Garment Care
At Joanie, we know that sustainability comes from the heart, so our mission is a kinder clean! Over a quarter of a garment's environmental impact happens after it leaves the store so by changing the way you care for your clothes, you can save water, energy and money!
Good for you and good for the planet!
Here are our top tips for reducing the environmental impact when caring for your clothes.
Wash less to maintain the quality – washing breaks down the fibres in your garments and uses gallons of precious water. Avoid long washing cycles!

Keep it cool! Wash cooler (30

°

C) and on a gentle cycle to reduce microfibre release and CO2 emissions.

Put your washing liquid or pod in before the washing. Why? So that it dissolves properly as the water fills up from the bottom! Leave some space in the drum for circulation and agitation.

Fun fact:

the temperature on the care label is the maximum washing temperature, not the recommended washing temperature. Washing at a lower temperature will not harm your clothes.

Joanie Top Tip:

wash delicate styles in a mesh bag to catch microfibres and protect your garments from snagging.

Use the tumble dryer less – it breaks down the fibres in your clothing and the heat will cause shrinkage/twisting. Dispose of the lint/microfibre in the bin, not the drain!

If you must iron, (shirts, linen etc), use a little water. The humidity helps straighten the fibres.

Joanie Top Tip:

A quick blast with a hot hair dryer will get the worst of the creases out! Quicker and just as effective as tumble dryer or iron - and it uses a whole lot less power!

Stash your Joanie clothing carefully – never hang T-shirts and knitwear, they will stretch and form holes at the sleeve head. Fold clothes along seams to minimise creasing and breakdown. Use as few folds as possible.

Joanie Top Tip:

store garments with air around them. Natural fibres, in particular, need breathing room!

Learn some new skills! How to sew on a button, re-stitch a seam. Accessorise, customise and embellish to give your favourite items a second chance to shine! Save them from a life as landfill!
Our Partners & Global Awareness
Delivery
DPD
Your Next Day Delivery parcels will arrive with the UK's most sustainable delivery company!
Clean, green delivery:
Through the use of electric vehicles, DPD are building the largest all electric delivery fleet in the UK with 700 vehicles to date.

Smart urban delivery: all electric micro depots to deliver emission free in cities, and new, super efficient route planning technology to reduce miles travelled.

Energy management: 100% of energy from renewable sources. LED lighting and smart meter control over gas supply reducing energy consumption.

Waste management: 100% of waste avoids landfill through separation and recycling.
For more information on the DPD clean, green delivery plan please visit:
https://www.dpd.co.uk/content/about_dpd/csr.jsp
Royal Mail
UK Standard Delivery parcels are sent with Royal Mail. Below are just some environmental credentials and initiatives from the delivery company:
Awarded triple certification by the Carbon Trust+ and have reduced carbon emissions by 29%

Zero emission cargo trikes carrying mail and parcels are being trialled across three sites.

295 zero emission, electric vehicles and a plan to increase this number over time.

In 2019, 99% of waste was diverted from landfill, through a combination of reuse, recycling and energy recovery.
For more information on the Royal Mail environmental policy please visit:
https://www.royalmailgroup.com/en/responsibility/our-environment/net-zero/
https://www.royalmail.com/hello2020
Warehousing & Logistics
Torque Logistics
Joanie's chosen warehouse partner for the fulfilment of orders is Torque Logistics, based in Leeds UK.
Torque Environmental Statement
"Torque recognises that it has a responsibility to the environment and is committed to reducing the environmental impact across all of its operations.
In order to achieve this we do the following:
Conduct all of our operations in accordance with environmental legislation and regulations.
Ensure that all of our locations are built, developed and operated in a manner that takes into account the needs of, and is sympathetic with, local wildlife.
Investigate, and implement wherever practical, initiatives to reduce the energy consumption within our business.
Reduce emissions from our fleet by ensuring efficient vehicle usage, optimal route planning and regular vehicle servicing and replacement.
Reduce waste by means of compacting and materials recycling wherever possible. Work with our customers to help them reduce their own environmental impact.
Work with our suppliers and contractors in order that they operate in an environmentally responsible manner.
Encourage employees to be environmentally aware and provide facilities for recycling within the work environment.
Each year consider, and where appropriate select, environmentally focused groups to be our chosen Community Project partners."
https://www.torque.eu/environmental-statement/
Website Hosting
Our web hosting partner Sonassi, is part of the iomart group of companies, who are committed to operating their business in an environmentally sensitive manner, incorporating green IT into their future plans. They are working closely with Rainforest Concern and Microsoft to provide data in the fight against deforestation. Iomart is also assisting in the purchase of land by Rainforest Concern, to form protected forest areas, by donating £3 from every Iomart sale of an Office 365 license, directly to the charity.
https://docs.iomart.com/about-iomart/corporate-responsibility/rainforest-concern/
Iomart Environmental Accreditations
ISO 50001 Energy Management
This demonstrates commitment to working continuously to improve energy use and impact.
"ISO 50001 is the standard for energy use and consumption. It provides a framework to integrate energy efficiency into the daily operations of global companies. Obtaining this standard demonstrates that iomart's approach to energy management complies with the Energy Savings Opportunity Scheme (ESOS) and meets the objectives of the Climate Change Agreement (CCA)."
https://docs.iomart.com/iomart-achieves-iso-50001/
ISO 14001 Environmental Management System
This demonstrates commitment to working continuously to improve environmental position and performance.
"iomart is fully committed to the principles of the ISO 14001 Environmental Management System (EMS), as defined in the company's Environmental Policy, Manual and supporting procedures/documentation."
Iomart Environmental Policy
"We will endeavour to promote our environmental policy to suppliers, contractors, customers and any other interested party using our website or any other applicable communication media.
iomart provides its employees with education and knowledge via training and awareness programmes aimed at the identification and understanding of the environmental impact of their activities.
We recognise the environmental impacts arising from our business activities and are committed to reducing these through effective environmental management. We aim to achieve this by:
Managing and, where possible, reducing energy use relating to our business premises.
Increasing re-use and recycling of materials.
Preventing pollution by disposing of waste in an environmentally responsible way.
Respecting all existing, applicable environmental regulations and meeting all new regulations as soon as is reasonably practicable.
Where appropriate, taking environmental factors into account when purchasing products and services.
Complying with the ISO 14001:2015 standard for environmental management systems including setting and working towards measurable objectives and targets.
Continually seeking ways to further improve our environment performance.
We are not quite there yet on using only renewable energy but we certainly do our best to ensure that we run efficiently with no unnecessary wastage."