We want to be as transparent with our customers as possible and strive to reach the highest of standards, complying with regulations that apply to brands much larger than our own. As part of our continued commitment to improving our supply chain, processes and ensuring ethical working conditions, we've outlined our Ethical Policy below.
Supply Chain
We want to be open about the measures we currently take, and what we can do to ensure that we are working in a fair and ethical manner. Over the last year, we have been working together with our suppliers to review procedures and learn more about how they operate.
When we launched Joanie, we chose to work with suppliers that we have built close working relationships with, over our combined 30 years' experience in the clothing industry. We use manufacturers who have the best reputation for producing quality goods to the best possible standards. These partnerships are based on trust and mutual understanding.
In 2020 we prioritised our commitment and hired an expert Sourcing and Sustainability Consultant to help us fast track our processes and become more accountable for our environmental footprint. We are working together to continuously improve our sustainable sourcing capability. Our manufacturing partners are an integral part of this process and have been very co-operative in helping us understand their businesses better, and their sustainable initiatives too. You can read more about our sustainable practices and journey on our Sustainability Page.
We have forged and nurtured some additional relationships since we launched the brand through visits to China, as well as new contacts in India, Europe and the UK.
We have already identified, and are tackling the following areas within the design, development and production process:
Negotiating Fair Prices with Suppliers
We ensure that a fair price is reached and place a great deal of importance on ensuring that any price agreed is viable for both parties. Doing so means we can develop mutually successful and profitable partnerships.
Agreeing Reasonable Lead Times
We work to realistic timescales for the production of our garments to ensure that the manufacturer is not placed under excessive pressure. Excessive pressure may cause factories to produce substandard goods, or subcontract some of the production to other factories.
Ensuring our Code of Conduct is Understood & Stringently Followed
All factories must abide by our written Code of Conduct. This must be signed as part of the terms of contract and is clearly conveyed to all staff through our Joanie Supplier Manual.
All Joanie products are inspected at source by an independent quality assurance agency in order to ensure our standards are maintained. We work closely with our QA team; liaising with them weekly and requesting regular feedback on our factories, as well as frequent factory visits.
We are working closely with our suppliers to develop a robust plan for the future to ensure performance and compliance with our Code of Conduct. This will ensure that workers are being treated fairly, paid a fair wage and are working in a clean, safe environment. The health and safety of our workforce is of the utmost importance to us, and we know how important it is to our customers too.
Code of Conduct
Joanie's Code of Conduct is clearly communicated to all suppliers and must be signed and adhered to, as part of our contract.
Suppliers must operate in full compliance with the laws of their respective location and with all other applicable laws, rules and regulations, including those respecting labour, worker health and safety and the protection & preservation of the environment.

Suppliers are encouraged to take concrete measures to minimise their ecological footprint.

Employment is to be freely chosen. This means no forced work and all workers must be free to leave their employer after a reasonable notice period, should they wish.

Regular employment must be provided.

Living wages and benefits must be paid for a standard week and must meet the minimum national legal standards or industry benchmark standards, whichever is higher.

Working hours must not be excessive and must comply with local laws and industry standards. There should be no forced overtime.

No discrimination in the workplace is acceptable. This includes but is not limited to: discrimination of age, disability, gender, marital status, sexual orientation or political affiliation.

All employees should be aged 18 or over i.e. there should be no use of children in the workforce.

No harsh or inhumane treatment, physical abuse or discipline. Threat or other physical abuse or any other forms of intimidation is not acceptable, and all local laws must be complied with.

Working conditions must be safe and hygienic. Workers must receive regular and recorded health and safety training. This must be repeated for new workers.

Suppliers must conduct themselves with proper business integrity. There shall be no improper advantage sought, including bribery.

Suppliers must cooperate with Joanie to ensure that these standards are met.
The Modern Slavery Act
The Modern Slavery Act was introduced by the UK Government in 2015. The act requires businesses to ensure that there is no modern slavery within the company or its supply chain.
The International Labour Organisation (ILO) estimates that there are around 21 million people in forced labour, 14.2 million of which are in the manufacturing, agriculture, construction and domestic sectors. Many workers are forced to work long hours for low wages, living in hostel-like conditions without the support of trade unions. The difficulty in identifying that modern slavery is taking place in the supply chain is that it's often invisible to those outside the business.
Our Commitment
We want to ensure that we are working with our existing and new manufacturers in a responsible and ethical manner. We will take action wherever necessary to improve the way we work together by putting the focus on protecting vulnerable workers and being proactive in remedying any human rights violations.
This includes a strict policy against subcontracting. Subcontracting is a risk that arises when orders are placed for higher quantities and/or with a short lead time.
We are very aware that within our industry there is a substantial risk of modern slavery and human trafficking. We are working with our supply chain to improve our current contract terms on the following points:
Develop and improve workers' conditions, including safety and human rights

Communicate and support the achievement of compliance to our technical standards with all suppliers

Encourage participation and input from our suppliers; asking what we can do to improve the way we work together ethically?
We also recognise the other potential risks in the garment supply chain:
Temp/agency workers and migrant labour

Workers not employed directly by us, therefore meaning we have less visibility

Lower cost materials being sourced, potentially from untrustworthy sources

Suppliers subcontract without permission (in breach of contract)

Operating in high risk regions

Increasing order quantities without giving enough advance warning

Being mindful that factories/mills need enough production time
We have a moral duty to influence and incentivise ongoing improvements in the supply chain to ensure vulnerable workers are protected and not exploited. This includes issues with wages, working hours, living conditions and health and safety.
UK organisations should respect internationally recognised human rights wherever they operate and treat the risk of causing or contributing to human rights abuse as a legal compliance issue.
We recognise the need to tackle and raise awareness that modern slavery is happening around the world in many industries and should not be ignored. We are committed to being a driving force for change in the fashion industry.
Our People
Our people are what make the Joanie world go round!
We employ a small but mighty team of 8 vibrant, passionate and committed individuals at our HQ in Manchester. We all care about each other, the wider team of Joanie partners, and the human rights of every individual involved in the Joanie supply chain. We pride ourselves on making clothes that do not compromise the people that make them, or the wider environment.
The welfare and happiness of all of our co-workers is very important to the stability and growth of our business and we never lose sight of this. We actively encourage diversity and equal opportunities within our team and partners we work with.
Our aim is to build on our current team to create a happy, diverse and non-hierarchical business, in which every individual can feel both heard and valued. It is our belief that every team member has a valid contribution to make in the growth, development and sustainable endeavours of the Joanie brand.
As a small and loyal team, we very occasionally have vacancies for like-minded, passionate people who share our values. We are also happy to hear from students and graduates interested in work experience placements or internships at Joanie.
Please send your CV to: [email protected]
Diversity & Inclusion Statement
Here at Joanie we have a zero tolerance approach to workplace discrimination. We believe that everyone should have equal access to work and opportunity to reach their potential.
We celebrate individuality and authenticity and do not discriminate on the grounds of colour, race, nationality, ethnic origin, religion, gender, age, sexual orientation, marital status or disability. We are committed to diversity and inclusion, from the people we hire to the models we work with.
We stand against racism in any form, and its effects, including inequality of opportunity.
We have built our people strategy on the principles of trust, equality, fairness and inclusion. We believe that it is the responsibility of everyone at Joanie to uphold these principles.
The Living Wage
We are a Living Wage Employer, meaning that we have made a commitment to paying all of our employees a wage which meets the cost of living, not just the government minimum. The real Living Wage rates we pay are higher because they are independently calculated based on what people need to get by.
For more information on the Living Wage, please visit: https://livingwage.org.uk/
Ecologi: Climate Positive Workforce
We are now a 'Climate Positive Workforce'. Hand in hand with our commitment to sustainability is our intention to reduce our carbon footprint as a business. We are signed up with Ecologi to offset all of our business and personal travel, by growing our own company forest. As a result we are now considered a "Climate Positive Workforce", having planted 587 trees in 2020. You can see our current count of 'trees in our forest' below!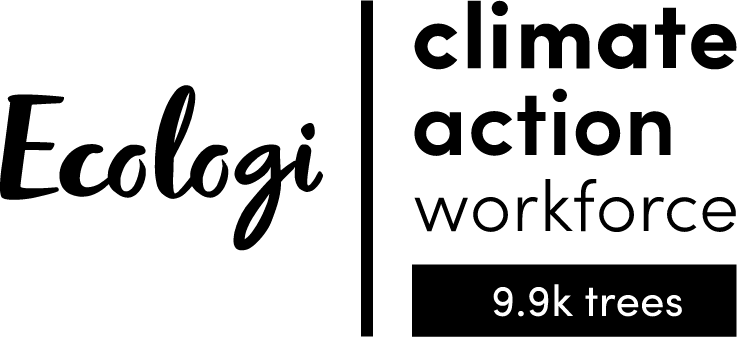 Our Charity Work
We love to support causes that are close to our hearts through collaboration styles that see a donation from each sale going to a nominated charity.
In 2020, we named The Girls' Network as our nominated charity for the year. We developed our Lada Girls Club Slogan Tee in collaboration with the charity, where 50% of the proceeds are donated to The Girls' Network who make a difference to the lives of thousands of teenage girls across the country. We're thrilled to announce that last year thanks to your purchases, we raised £4,955.56 for The Girls' Network. Your contributions will directly support their mentoring programme and help expand the network to new regions across the country, reaching even more girls in 2021.
We're also pleased to announce that we've been able to raise a further £3,154.23 for Dogs Trust, through sales of our Canine Dog Illustration Tee.
That's over £8,000 raised in 2020 for our chosen charities!
We've got so much more planned for the coming year too, including new charity partnerships and exciting collaboration ranges.